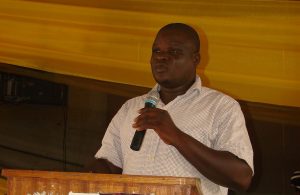 Undergraduate Courses in Educational Management taught by Dr.Bua Felix since 2009
EDM 101 Introduction to the History and Development of Educational Management in Nigeria.
EDM 106 Office Management and Records Keeping
EDM 112 Interpersonal Relationship in educational Management.
BSM 101 Introduction to Business Management
BSM 103 Principles of Economic
EDM 206 School Budgeting
EDM 204 Programme Organization and Time Tabling in Schools in Nigeria.
EDM 322 Introduction to Administrative Theories in Education Mgt.
EDM 323 School Plant Management
EDM 404 Educational Systems Analysis
EDM 408 Information Management System in Education
EDM 411 Demographic Aspect of Education in Nigeria.
EDM 425 School Business Management.
EDM 426 Personnel Management in Education.
EDM 428 Communication Skills in Educational Management.
EDM 416 School inspection and Supervision.
EDU 201  Sociology of Education.
EDP 203 Curriculum Aims and Integration in Nigeria.
EDP 308 Curriculum Development in pri-primary/Primary Education.
EDA 411 Educational Administration and Management.
Diploma Courses in Purchasing & Supply, Marketing and Stores Management taught Dr.Bua Felix since 2007 to 2012
DIM 213 International Procurement & Marketing Management.
DIM 209 Advertising
DIM 215 Public Sector Procurement
DPS 202 Stores Management
Postgraduate Courses in Educational Management taught by Dr.Bua Felix since 2015
PDE 702 School Management and Administration
EDM 801 Management of Education
EDM 806 Personnel Management in Education
EDM 910 Politics of Education
EDM 908 Advance Practicum in Educational Administration and supervision